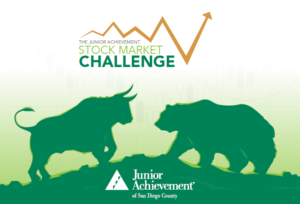 Junior Achievement's 2nd Annual Stock Market Challenge brings the Excitement of Wall Street to San Diego
This exciting, fast-paced event connects teens to the future world of business presented by Qualcomm
SAN DIEGO, CA — On Thursday, February 1st , 130 students from local high schools got a taste of the fast-paced, high-stakes stock market at Junior Achievement's 2nd Annual  Stock Market Challenge.  The high-energy event began with a student competition and concluded with an evening competition for college and corporate teams.   The program took place at the fabulous QUALCOMM Conference Center.
Using state-of-the-art technology in a simulated trading environment, each team will began with $500,000 in fictitious funds and interacted with on-site traders to buy and sell shares with the goal of building the highest-net worth portfolio by the end of the trading period.  The trading is fast, fun and furious as 60 trading days are condensed into two hours with a new trading day beginning every 80 seconds! Teams must think on their feet as they make real-trades in real-time, while filtering through the changing news and stock tips tracking latest market trends.  At the end of day, the team with the largest portfolio was crowned Stock Market Champions.
"This event is fantastic because it connects classroom learning to the real world of business.  The simulation is fun and gives students a true sense of competition and what it takes to successfully buy and sell stocks," said Stephen Soderbach, a teacher at Vista High School.  His business management students participated in the event last year.
The goal is to raise money to deliver Junior Achievement's life changing financial literacy programs to 81,500 students in grades K-12 this year.  Junior Achievement's mission is to get kids real world ready by teaching them how to get a job, start a business and how to manage their money.
Event sponsors for the JA Stock Market Challenge include QUALCOMM, Callan Capital, Intuit, Reilly Financial Advisors  Signature Analysis, Synergy One Lending, and Pro Back Office. 
"We are so grateful to our generous sponsors for bringing this exciting event to life for our JA students and corporate teams," said Marla Black, President and CEO at Junior Achievement of San Diego County. "All proceeds from the event support our educational programs that teach K-12 students about work readiness, entrepreneurship and financial literacy." 
Our 2018 winners!!
1

st

Place Wildcats of Wall Street from El Camino High

2

nd

Place Borborygmous Co. from Vista High

3

rd

Place Young, Dumb, and Rich from Mount Miguel High
Photos of our event can be found here:
Adult & College Teams Facebook Gallery